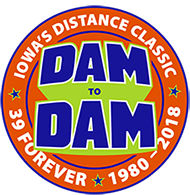 This was the last year for the Dam to Dam race that concludes in Des Moines and starts on scenic dam nearly due north of the city. It has a certain reputation as an iconic Iowa running event in no small part due to the cash purses available for the winners. Many people I know have run this race. Last fall my good friend Dave challenged me to run it – if I did, he would too. I took him up on it. What follows is the uncut experience that I had.

Let's start with the obvious – a lot of people did a lot of hard work and preparation to pull this off. There were no doubt hundreds of volunteers that combined for thousands of hours of planning, preparation, training, and the contributions of other time and treasure that they are assuredly not getting reimbursed for. The fact that this race cost only $39, including at least two meals, a shirt, socks and elaborate timing mats – including one at 10k – means that it is as good of "deal" as one can find for a distance run like this.
That said, a bunch of my early race review is going to sound like a harsh commentary on how things worked out. Let's just say that the next race organizer has some opportunities to make improvements.
FRIDAY:
1:40 PM – After successfully retrieved both of my children and packed the car with a race and a weekends worth of stuff, we head to Ames where we will be staying with my morning wheelman, my sister.
5:40 PM – Jimmy Johns in hand, everyone and everything is unloaded at my sisters and I continue to Des Moines for packet pickup.
6:40 PM – I walk into and back out of packet pickup empty handed. Like others I heard walking in and out, there is some surprise that this is arranged by bib number and not by name. I hadn't encountered this before, so I had to retreat outside where I had data service to look it up. Now knowing my bib numbre of #7728 I returned and got my socks and bib. Having observed the open bar and open buffet and all those taking part, I regretted not bringing the whole family here. I had been ravenous by Ames, however, as my strategy for a clean race morning had been to stick to low fiber carbs and some protein. My hanger by reaching Des Moines would have been palpable and I am not sure a bunch of Coors Light would have improved that situation. Once I am at the car, I realize that I had not gone down to the shirt pickup area (arranged by size) and I walked back in and back out one more time.
9:00 PM – I pile up my gear and check my list for the final time. Stand out items are a hat and a poncho that are insurance against the foul weather being predicted for the morning. Thunderstorms, wind and a ~20 degree temperature drop are in the forecast starting around 4 am. I finalize with my sister and wife what the transportation and spectator plans are for the morning. My sister is taking me at 5am to a bus stop 30 minutes away where busses will be doing pickups from 5 am to 6am. I have been cautioned to not be late and that the last busses often fill up, stranding hundreds of runners each year. Like the Computer Science degree holder that I am, I calculate that in order to have what I feel is the minimum amount of time to do my pre-race routine (food and bathroom time!) I need 1.5 hours and therefore set my alarms for 4:30 and 4:40, respetively. I explain that I like to have it be like a job interview, up early for food and coffee, then a shave and a shower, then a snack and hydration and enough time to let me really wake up and all the bio processes to kick in with about three hours between eating real food and the race starting. I tell my sister I plan to be up well in advance of our leaving without specifying a time.
SATURDAY, PRE RACE:
4:30 AM – Fitful sleep despite great sleeping conditions. My first alarm goes off about the time that my sister knocks on the bedroom door asking me if I am OK. I haven't even hit snooze yet, so I reply yeah, everything is good. I lay there for a minute, and the obvious hits me. The difference between 4:30 and 5 is 30 minutes and that 30 minutes is a smaller window of time than 90 minutes. I tell myself that I just need to get moving and to stay positive and go about doing all the things I would have done normally at a very relaxed and purposeful pace as quickly as possible. We are in the car and rolling at 5:10. My normal checklist is complete save for the last and possibly most important step – the final and definitive pit stop. I resign myself to contesting for one of the advertised 150 portapotties that are available at the dam.
5:40 AM – Arrival at the DMACC campus in the wind and rain and somtimes visible lightning reveals a line 100+ yards long and no busses in site. I get my poncho on, put my Halo sweat band on top of my hat and hop out, waving good bye and trying not to step in any puddles. I get in line next to an older guy who is holding a second pair of shoes in a plastic bag. What a concept! We talk for some time about how he has done this race many times, Boston a few times and that Grandma's is his normal qualifier. He has an IronMan hat on, so I ask about that and he is a 70.3 guy. No busses, no line movement. After twenty minutes (if you are doing clock math, this is when the the last bus was scheduled to leave) a race volunteer walks by and explains that the busses were holding people due to lighting, but now that the worst of the storm was over they were empyting the busses and we could expect that normal pickups would resume. About then, we saw some lightning and the man with his phone in a baggie and in hand with the radar pulled up laughed. The red and the yellow from the storm was just crossing over our location heading West to East. The worst of the storm was just befalling us. My new Ironman buddy announced he was heading to his car to wait.
6:00 AM – With the mass exodus from the line back to cars that was jealous of, I was able to vastly upgrade my position in the line and also acquire new bad weather waiting in line friends. These friends had umbrellas and were very upbeat and positive. I am regalled by veterans in line about how in the past bussing locations were entirely forgotten, rain, heat and all manner of suffering and calamity that had befallen those who showed up to this race were subjected to. And yet, here we all were trying to keep our rain gear between us and the sky despite the wind. Importantly, one was willing to have her phone out and was relaying the disaster, with some satisfaction, that was befalling the other bussing locations which were expeincing a myriad of traffic issues and same lack of busses along with the angst the people on the busses were experiencing. Collectively we agreed that the people on the busses were on the right side of current events as we shivered. I kept trying to use my poncho above my shoes to keep them dry, but when I would collect a bunch of water and try to dump it to the side I would instead inavariably dump it directly into one of my shoes.
6:30 AM – Three busses actually show up! They fill and leave with my group in the next ten or so awaiting the next bus. We are now subjected to puns by the jovial gentleman volunteer doing the boarding.
6:40 AM – Another bus rolls up! One more pun! "What do you call a government run by butterflies?!?" the man asked with a huge grin. He takes a couple of volunteered answers which are wrong, and then gleefully tells us "a Monarchy!!!" We are only allowed to enter the inviting, vinyl clad confines of a large yellow school bus after we sufficiently groan in appreciation.
6:50 AM – This is just before when the race was supposed to start, but we are sitting somewhere at a light in a bus where the bus driver is wiping at the inside of the windshield in attempt to see what is ahead of him. Everyone but me it seems has phones and is trying to decipher from social media what is happening. A fellow close to me on the bus who had run the prior 17 years talked about how he had spent $125 on Craigslist for his bib and how it normally took 30 minutes to go from the bus pickup location to the drop off. We all wonder if the race will be delayed or not. It's hard to know because the course will likely still only be open for the four hours negotiated with the city, right? This is about the time I really start feeling the regret of missing that last pitstop before leaving the house.
7:10 AM – we are nearly to the dam area and I decide to take the opportunity to wring out my socks and insoles. I leave a lot of water on the floor of the bus and I am also a little surprised that I am the only to do this. Multiple times I have bemoaned, aloud, my decision not to bring my throw away shoes and I am positive everyone around me is tired of hearing about or discussing the conditions of their footwear. The guy next to me inquires if I am really wearing race flats, which I am. I have never done a run longer than a 10K in them. They have speed laces though, being my TRI running shoes and I am grateful not to have to worry about this or having the shoes themselves absorb much water as they are mostly a shell. The pit stop grows larger in my mind.
7:20 AM – after participating in a caravan of buses that went as far we could see in either direction, we are discharged. I make a beeline for the porta potties, being careful to stay on the pavement. There is talk of magical, no line porta potties around some bend. Given my current state, I set forth on this quest expeditiously and I am rewarded with a site of some 60+ without a line. I basically walk into one with out a wait and feel that finally I am actually ready for a run. Having taken care of the primary issue, I wait for a bit in the sane, windless confine of the portapotty and make sure everything is really ready to go. I would say I heaved a sigh of relief, but I was trying not to breath too much.
7:28 AM – I walk back down to the split where you could head to the dam or the porta potties. There are no signs and no volunteers in site in the gusty, light rain. I quickly try to take shelter under some trees like some of the many other people I could see, but quickly retreat due to the mud. Back on the pavement I ask a guy what is going one with the race start and he tells me someone said it was postponed to 8 AM, but that he had since heard 7:30. As I walk towards the dam, I pull out my Shuffle, position my earbuds and marvel that I still have all my stuff.
7:35 AM – Someone is saying something over the PA system on the dam. You can't hear the words, but I am couple of hundred yards back from the mass of humanity and I can see them move. I am hungry so I pop the first of my candy fuel in my mouth and and start out onto the dam.
7:40 AM – Out on the dam the windspeed has to be something like 35 MPH. Later I would hear from people who got in position for the supposed 7 AM start that the rain pelted them like hail and kept switching directions. The whitecaps are visible on the water far away and I find myself grinning like an idiot running into this fierce headwind, first walking, then trotting, and finally breaking into a slow run as I ran into the clot of people. Garmin reports rain, 64 degrees and an easterly wind of 26 MPH at the beginning of the activity.
7:43 AM – I cross the starting mat and tell my watch that I am now officially running.
SATURDAY, THE RACE:
20kcourse <– Map!
My Goal (that I was willing to share):
Sub 1:40 for the 20KM race portion, push out for a HM PR (sub 1:46:37) after officially finishing the race. Average sub 8 minute splits – at 8 minutes, the finish time would be ~1:39:12.
My Race Plan:
-1st 5K will be a mess due to the number of people running it. Conserve effort, don't try to chase people with much faster intentions, be mindful of the large downhill without falling off pace too far. In my head this looked like 8:30, 8:05, 8:05. Water and candy Miles 2-3.
-2nd 5k is time to find tempo+ pace and settle into a groove. 7:50 target for the average on this largely flat section. Water and a candy late.
-Mile 6 included a biggish climb about the halfway point. 8 minute split to keep the HR in check and bank some reseveres for…
-Mile 7 A surge mile. Target split of sub 7:30 to put the time back in the bank from Mile 1.
-Mile 8 Recovery Mile. Water, candy.
-Mile 9 A surge mile, another sub 7:30 split target. This should put me definitively in the black for obtaining my goal.
-Mile 10 to 11.5 – Early water, then keep it rolling. Aim for ~7:45 splits to get me furth ahead of the clock.
-Mile 11.5 to Finish – Whatever race pace I can muster to put this thing away. Looking for my family about .5 miles from the finish.
-Finish to HM – Gametime decision. I am not familiar with the finish or the city and if the above plan blows up, I won't do it.
-Meet my family at the south end of the park the race finished at. I don't have a phone with me so this is pretty old school.
My Race:
Mile 1: What a bizarre mile. It felt high effort for the first third or so due to the high winds. The road and shoulders were covered in detritus from those who had come before. The rain seemed to have stopped, only the wind remained. I tore off my poncho, pulling it apart like superman opening his shirt and resolved to myself to keep it until the first water stop just into the second mile. Ponchos and garbage bags were everywhere and I had to jump to clear a few on the road. I also caught up to a lot of people and so began the race within the race – getting around, through and past groups of people. Since I had started without being at the pylons at all and there were some 7200 finishers, I figure that passed around 6,000 people over the next 20km. I naively thought that I would get through this in the first 5K. I wasn't worried because I would clear the crowd for my great negative split race. Seven seconds can be recovered. 8:37.
As a side note, there may still be poncho wearing tribesmen camped at the top of the dam, unaware that the race ever started. My guess is that the Tribe of Garmin has likely consumed the last of the Tribe of Polar by now and are in a vicious struggle over the best remaining territory with the Tribe of Fitbit.
Mile 2: More people. A lot more. Surging, dodging, running on the shoulder where it isn't mud or huge puddles, apologizing out loud and cursing under my breath. This is a constant through mile six. I think to myself I have to pee, but that can't be – and the lines at the porta potties are too long and I don't want to run out into the trees like so many men and few brave women are doing. A little slow but I avoided over-striding down a 100ft drop hill and I am still confident I will get into a rhythm free of the walkers and joggers and big teams that I am currently running into. 8:11.
Mile 3: Always more people. A run straight east into the maw of the wind. Maybe two people passed me, I probably passed more like 2,000. Maybe. More inward cussing and I get the Shuffle to actually fire up. Concerned that I was not keeping up my form, I check my spm. ~175, I feel reassured I am in race form. Metallica fuels me. 8:06.
Miles 4-5: Still so many people my mind is boggled. I get passed about mile 4.5 and I keep up with her for a bit, I check the pace on my watch and see it is too fast. I slow but feel good that I got a quality mile in at the end of the first 10k. 7:58, 7:49.
Mile 6: I didn't know there was going to be a timing mat, but when I hit it I look down at my watch. I am at about 50 minutes, I don't remember the seconds. i do the math and realize that my goal finish needs me to make up less than a minute but that it is imperative I stay under 8 minutes per mile from there on out – and really under 7:50. Surges are going to work, I am confident. The gun clock is at 1:03 and that is when I realize I started 13 minutes after the fun went off. I keep looking for this hill but it never shows up. 7:59.
Mile 7: Starts with the hill that was supposed to be at 6.5 based on my plan. I slow a bit, keep my cadence up, and crest it, thankful that finally I can stay to the left and have my own path. I push from 7.5 to 8 instead and managed to keep the split under 8 with it. I realize that I just burned my first surge on keeping this one mile under 8 and that no time was gained against my goal. Water, I think. 7:51.
Mile 8: Back on narrow city streets that feel very congested but I am still constantly passing people, we are now rolling up and down a bit and I keep my foot on the gas as best I can. I can feel the effort level building to maintain. I believe I eat another piece of candy at this point. 7:52.
Mile 9: This was supposed to be a surge mile but I didn't have any recovery with mile 8. More down than up, I try to keep my downhills controlled and my heart rate recovers but I am about 20 seconds off my anticipated per mile pace. 7:48.
Mile 10: I did the math in my head at the start of this mile. I was supposed to drop and recover a bit for the final push… but if I backed off my pace at all, I was going to be in the red against my goal. I wasn't willing to do this so kept at the level of effort from the surge mile. HR continues to climb, 180 bpm now. 7:49.
Mile 11: A series of tight paths and congested water stops. I had been drinking all along and had a hard time processing why people at this pace would need to stop for water – the end was so close. I only partially sholder checked a couple of people who came to complete stops right in front of me, I did try to miss them. Fearful of the pace my watch was showing that was too frequently over 8 minutes, I pressed on. 183 bpm and 7:58.
Mile 12: The last full mile! Finally the crowd began to get thinner! I was pressing but finally was telling myself to keep my shoulders back, head up, and that I had spent too much time traning and doing intervals to give an inch now. Looking for my family a bit now, as the sidewalks are pretty clear and a I spot a few people that are wearing medals and jogging it out in the opposite direction. I realize that people have been saying 12.4 miles, but it really going to matter to me if it is more like 12.39 or 12.44. I chastise myself for not knowing. . It's now 1:35:47 and I have half (?) a mile to go. 4:13 left on the clock. 186 bpm, 7:44.
Mile 13/14: I round the corner and press on the gas. I look for my family a bit but as I approach the 400M sign the crowds grow. I am now in the tunnel and pressing. 200M my pace is reassuring when I dare to peak in the low 7's but it's freaking 1:38:xx!!! I don't have much push left. There are people shouting my name about the time I hit the 100M pylon, I look to my left and by the way they are saying my name and gesticulating it is clear that this wasn't the first shout or wave aimed at me. I give a little wave and make a mental note to apologize and put the rest of it into the the last 100M. I looked down at my watch (sure to make a great pic) as I stepped across the last of the mats and it was 1:39:xx! Success. I pushed through the throng and snagged a medal. I put it on and aimed for the back of the area. There was a fence, so I squeezed through an opening with some other finishers who were exiting as some spectators were pushing in. In a tone that let me know what an asshole I was being, a racer told me "hey, we are all trying to get to the same place, buddy." I didn't waste breath on letting him know we obviously weren't as I took the medal off and ran down a street, then another block, then another. I kept going until it said 13.12 and then I hit stop. My garmin immediately congratulated me on a new PR for the half! I hit over 190 bpm for most of this final push, but the results were there.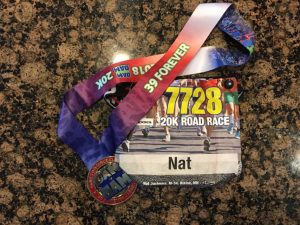 As I walked back into the finisher area to snatch several bottles of powerade for myself and my entourage, I was able to reflect on how nice the weather was as it was sunny and mild. I wandered around until I met up with my family and we had dumplings and carmel corn and cookies and sandwiches. My wife explained to me that they were meaning to move further down, but they figured out that they were at the finish about the time that I was should have been there with the gun start and decided to stop instead of potentially missing me. We had talked previously how it is hard to acknowledge people in that last push so close to the finish, she got it. On the flip side, it is awesome to have friends and family come out and support you at all. What a blessing to be able to share that and the after race time with friends and family.
About the time I felt really recovered my good friend Dave was approaching the finish so I was able to encourage him and run with him over the final bridge as he finished. His in laws have a beautiful flat in the area and the Des Moines farmers market was in full swing, so I was able to go shower in peace and enjoy all of that with my family as well.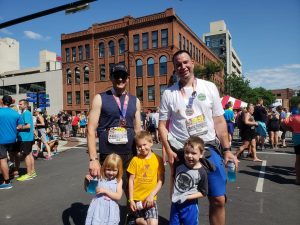 Some of the other people I knew running the race narrowly missed their goals, and in retrospect it was not an event that invited much success at running quickly. I am very thankful that I was able to meet my goals as I can take it pretty hard when I do not.
The day started out on just the sane side of frantic, was a stormy soupy mess, but matured into a day that I will fondly remember.
It's not an event that I would do again even if I could. On the flip side, if someone mentioned they were going to do it or it's successor event, I would be supportive. It's something to experience!
Mission accomplished!