It went pretty well… we won? 🙂
You should definitely register here if you are down for a fun, hard morning where you get to paddle, run and then bike your way across a beautiful countryside!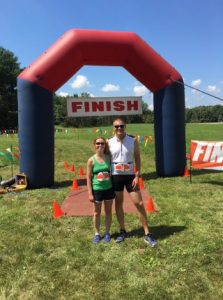 The results show that over 120 people participated, and I know that many have been coming back year after year to do it. The gals behind us on the bus were talking and I overheard that a couple of them had come back from Texas specifically to do this race as it was now a tradition for them and their girlfriends.
Not having to fly in from Texas to race is a real advantage here, given that this is in Scandia anyone can drive from the Twin Cities metro and easily compete and enjoy the event.
It was hot, it's funny but anything near 70 is considered pretty damn hot by the racing crowd. We started over 70.
We dawdled around the start because we had rentals and knew that even if we got to the water on an earlier bus, you just waited down by the river where it was buggy and full of anxious people and no porta potties. So we were on the last bus with about 7 or 8 other people the bus was only half full.
Our strategy worked and they had been more efficient in the past, so we walked down the path to the start, picked up paddles, life preservers and drug a canoe to the water and were off. Despite getting there maybe 20 minutes later than the previous year, we started to the minute the same right at 8:30 sharp. The race "starts" at 8 but that is for the people who have their own watercraft.
We paddled hard, I only got on Kristin's case a handful of times (I probably need to work on my technique too…) and we shaved 3 minutes off our time from the previous year. The river was incredibly high but we resisted the urge to cut the turn around back up river. That was much harder, we moved at half the speed expending ~50% more effort. Hot and drippy, we had our canoe pulled up on shore. I grabbed the dry bag and we ran to T1.
T1 went quickly, Kristin made a pit stop, we got some water and bug spray and were out in a few minutes. It was only about 5 degrees warmer than the previous year, but it felt super hot out. Like previous years, we moved really quickly on the flat area along the river, although with our start being later relative to so many others, we passed far fewer people than we had in the past.
Kristin was game, but the heat and only moderately more training from the year before meant our run was about the same speed. Up, up, up we went. It reads as only ~330 ft on Kristin's activity, and her's is more trustworthy with the barometer, but it's a never ending climb with only one real chunk where there is a 80 ft climb. The fact that it is a trail run saps the legs pretty good. I maybe could have done a 9 minute pace with the heat, the climb and the trail but with Kristin we did it in ~11 minutes average. That meant it was easy for me but she was riding ~170+ bpm for a lot of it, so she was maxed out and putting a full effort in.
We are officially blaming the heat for our slowest performance yet on this leg.
Coming into Leg 3, I started out of T2 ~three minutes earlier than the year before and we had a… better ride than in the past. Kristin got a bit more of a head start on me as I purposefully and methodically changed kit for the ride. I blasted out and even with a high effort took about 1.5 miles to catch her. After that, we worked out that our marital strife was minimized if she drafted behind. Not necessarily against the rules, we also paid to be a team. In any case, this gave me something to do in that I had to keep my pace close but fast for her. This made the ride go by so much quicker – and in real life we shaved about 2:30 off the ride, ending up with a ~7 minute improvement year over year! Really, it was probably better but we finished hand in hand and then I remembered that I hadn't stopped my watch.
We had fun and they were actually doing the raffles AFTER we showed up, and we got normal food with our food tickets and didn't have to choke down bony catfish. Evidently they had juggled the kegs on the way over from the bar, so even though I waited in line for quite a while, no beer. They gave us free drinks at the bar in town instead, so Kristin and I headed in there, sat in the AC for a bit and then came back home for showers and naps. That's always a highlight 🙂 We made burgers at home and had a great supper, then went to Big Dipper for ice cream.
It was a fun day, and we are down for 2019 at this point. Kristin claims she will find a way to run over the winter and will clip in for more power on the ride next summer. We'll see 😀