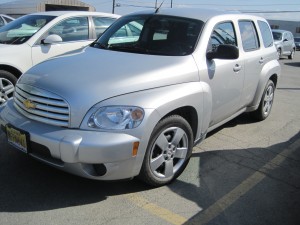 After leaving the rather hostile Hostel we went and picked up our rental car which was an interesting experience as always.
Enterprise Rent-a-car
We were picked up by Enterprise, which honestly was one of the big reasons we chose Enterprise as it saved a us a cab fare and some transit time.  When we dropped the car off it was handy to have transportation as well, they took me to the central bus station so I was able to get on the route that headed to the airport with a minimum of fuss.   The drivers were personable and professional each way.
The car we were picked up in, which was supposed to be our car for the trip, was a Dodge Avenger.  I am not a huge fan of Chrysler/Dodge so I wasn't too excited about it in general but was willing to give it a shot.  Turns out that it was a moot point as its tires were worn to the tread indicators and so we refused to drive that out into the Alaskan countryside where travel books advise taking two full size spares.
Saturdays are a crazy day to rent cars in Anchorage in the summer, I had tried to rent a car in Fairbanks so that we could have flown into Fairbanks and out of Anchorage and in April they were all rented already.  Point being, there wasn't anything really cleaned up and ready to go – but there was an  Chevrolet HHR that had just been returned.  Brad W. had told me to avoid this car at all costs, but hey, we wanted to get going and it had to be better than an Avenger, right?
Edmunds is OK on the HHR and we found it to be OK too.
Pros:
A ~20 Gallon tank and 30+ MPG was exactly what you would want in Alaska where you can see signs posted that say "no gas stations next 85 miles."
Passing power was sufficient at 55-60 MPH.
It does look pretty nice.
Tire Pressure Monitoring System independently displayed each tires pressure and this is all viewable.  Due to past experience we are paranoid about wheels and tires on rental cars and this provided some great piece of mind.
Visibility was great out of the windshield when navigating rough terrain, etc.
Cons:
Cup holders that managed to be as bad as what the old '99 Mustang had.  They were hard to use, adequate to get to and there were only three.  We are used to the Honda CR-V or Passat where we have about 10+.  Having room for empties so they aren't just rolling around in the car is something we are just used to.
Stock stereo was weak despite its plethora of input options.
More stiffness in corners would have been great.  Taking many long, blind sweeping curves on Alaskan ridge lines at ~70MPH was a little nerve racking.
Passing power with the small engine at 65-70 MPH took a little longer than was comfortable.
Abysmal storage space.  We had to keep putting things in the back seat as there weren't good places for books, cameras etc in the front seat.  Again, our larger personal cars have likely spoiled us.
Use the side mirrors as the view out the back is constrained.
You have to look down at the center console shifter to see what gear you are in.  Since you are frequently using Low gear etc. when descending mountains, this was striking as pretty ridiculous.
Conclusion:
Everything you want in a rental car (thrifty, easy to drive) with some traits that might make it an excellent commuter/secondary vehicle.  The HHR SS might be an interesting little ride with improved handling, performance and interior features with barely reduced fuel efficiency.
–Nat