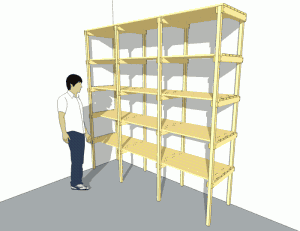 Over the past weekend I started a couple projects with the help of Kristin and my mom and dad. After successfully completing them, pictures and descriptions later – I promise, I started looking at actually tackling some other home projects that I had been considered. In so doing, I stumbled upon some internet sites I want to keep track of.
Firstly, I want to build some real shelves into the basement "storage room." As my parents noted, the cheapo metal shelf supports I purchased aren't holding up their end of the bargain. Get it?
http://woodgears.ca/storage/shelf_plans/index.html
Those look pretty interesting. I think I want to change just about every aspect of how it is done – making at least one section deeper, making it shorter, using plywood for the shelving surface, etc. but somehow having a base plan makes it seem much more achievable. The garage would probably be better off with them too.
http://woodgears.ca/shelves/plan/low_bookshelf.html
I'd like to make that book shelf even lower and use it as a DVD/Game/media/center channel stand. I would modify other things too – for instance, I am thinking I could avoid the dowel work by using furniture screws, but at the same time I could use a drill bit and take out 1/2″ deep or so and put a short dowel in for the same look. Any thoughts on that? I think using screws would speed up the assembly considerably while reducing the chance of error as well.
Looking at that, I realized that high quality lumber, like Oak, is expensive but is what I would need to use in order to match the trim, etc. It would be a piece of entertainment furniture, so painting black might look good…
http://www.thefrugalgirl.com/2009/03/how-to-paint-wooden-furniture/
Tada! Instructions! The internet is great, isn't it?
I have read that a desire to "finish" things is part of being an expectant father. It wasn't something I had considered as a source of motivation, but I guess it works. Five months and counting…
–Nat