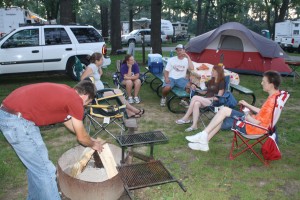 Roommate Camping 2010 was a blast!   As always, food was a big part of the action with along with some late night drinks around the campfire. In addition it gave the rest of us an opportunity rally around Travis while he navigates some perilous waters while admiring how well Erin handles being very, very pregnant.  Eldora was thoroughly  investigated and the Hardin County fair underwhelmed.
Friday
Setting up our tents on the RV spots at Pine Lake State Park took some work with a hammer to drive the stakes, but they were nice and level and proved to stay dry on Sunday.  Having electricity was nice as we were able to enjoy some tunes, etc.  The trees seemed to be dying therefore didn't provide as much shade as we would have liked, but overall the evening shade was excellent and the proximity to water was very nice.  It wasn't very buggy at all.  I'd easily go there again, assuming the same company 🙂
Andy and Erin kicked off the feasting with some excellent grilled chicken breasts along with a foil cooked potato-veggie medley that was very tasty and threatened to overwhelm the tin foil in which it was cooked.  Slicing up all of those vegetables must have been time consuming work but they sure tasted good!  Friday supper was rounded out with some cantaloupe and watermelon.
Obtaining firewood is one of the activities we men really look take pride in (you know, providing for the womenfolk) and it was adventure this year as well.   After throughly "scouring" the town, it became apparent that our best bet was again to be the first place advertising wood that we had seen right next to the campground.  The fellow there proved to be entertaining with his lack of mathematical prowess – as he was selling wood "by the piece" we elected for the $10 for 15 deal.  After he had loaded "five or seven" pieces into the trunk, Chris wisely took action and finished counting and loading the car.  We then drank into the night and enjoyed some smores and enormous marshmallows.  Andy and Chris collectively ruled the bean bag toss.
Saturday
The next morning featured showers in the somewhat creepy bathrooms – you had to pull the cord down in order for the shower to function.  It was OK that the water was lukewarm as the day developed to be clear, hot and humid.   We walked as a group from the campground to the beach area on the park path and then came back to the camp via the road… by the time we got back we were all craving some shade.  Chris and Jessica treated us to some expertly prepared brats, polish sausage, fruit, baked beans and grilled potatoes and veggies.  After lunch we headed on into town to explore and enjoy the Hardin County fair and find some ice cream.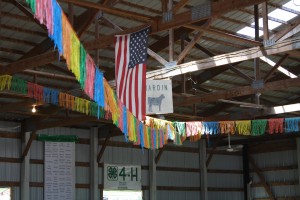 After experiencing some user error with the GPS that would have taken across the state in pursuit of delicious ice cream, we decided to head to the fair.  It was the standard county fair, with a 4-H building sporting prodigious amounts of blue and purple ribbons and some small animal barns.  After watching a couple of ~1500 pound steers duke it out for a trophy we wandered a bit more.  We checked out some more animals, Chris picked out a John Deere, Jessica got some cotton candy and we headed out.
We went to a little local place called the Ice Cream Station where lack of adequate staffing had us eating our reasonably priced treats in two shifts.  En-route to the Ice Cream Station, the caravan had discovered the Eldora Aquatic Center which required a trip to "Pami a" for Travis for a swim suit while everyone else headed back with some rapidly melting ice reinforcements.    The water slides, diving boards and other little kids at the pool provided for hours of enjoyment and I think was one of the highlights of the trip.  A couple hours of discounted swimming later, it was back for steaks, potatoes and wine by Team Juchems.  The night had cooled a bit and it was nearly dark by the time supper had ended.  Wood wisely purchased earlier at Fareway lit the night as old memories were shared, deep matters discussed and coolers went from low to empty.  I should have insisted on trying one of those Bud Light Wheats 🙂
Sunday
Sunday morning came to fast as we awoke to the sound of engines revving as many of the RV's packed it up and headed out following a short rain that ensured we would all have to pack our tents wet.  Kristin and took that opportunity to have some more "dialog" at home as we took the tent out for drying 😉  Burgers with bacon and pasta salad rounded out lunch as we all packed our vehicles back up and said our goodbyes.  The weekend went by way to fast but I loved every minute of it.  Well, most of it, except for the few moments when I had convinced myself that I had ruined the steaks… 😛
Travis, it was so great that despite all that was going on in your life we were able to spirit you away and get you smiling, joking and relaxing.  Know that we all love you and can be counted on anytime.
Erin and Andy, may your entire parenting experience go so well as the first eight months have gone!  It was so great that you could be with us and show us that pregnant ladies are people too – water slides and all 🙂
I can't wait for next year.  It won't be too far north, I promise.
–Nat